UPDATE – July 21, 2023, 9 AM #FireYear2023 – Firefighters contained the Happy Fire in Sims Mesa area at 3 acres last night and will secure and patrol until out.  
Yesterday, Arroyo Fire was detected southwest of Norwood late afternoon. Firefighters are working to have this .26-acre fire on BLM land contained by today. 
Tres Rios Field Office is in Stage 1 Fire Restrictions. Reminder that even green vegetation can easily ignite into a wildfire. Recreate responsibly and do your part to prevent human caused fires.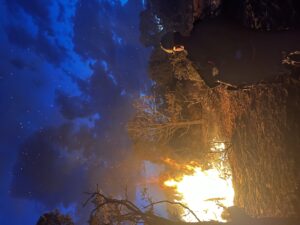 ---
UPDATE – July 19, 2023, 9 PM – Fire resources made great progress on the Happy Fire near Sims Mesa and Happy Canyon. Some firefighters will remain in the area overnight and continue working tomorrow. Happy Fire is 3 acres on BLM land.
—
The Little Juniper Fire was on private land and fire resources were able to contain it at .10 acre. There were no other fires discovered in the area. Fire resources will keep an eye out for any additional new starts.

Wildfire Update -July 19, 2023, 6:30PM – The larger smoke column in the Sims Mesa area has been confirmed to be on BLM managed land. The Happy Fire is located approximately 6 miles north of Montrose, CO near Happy Canyon. Current size is approximately 2 to 5 acres. Three engines, Type 2 helicopter are currently on scene with a twenty-person fire crew enroute. Fire behavior currently has slowed down.
There are three other smaller fires in the Government Springs and Sims Mesa areas. Local, state, and federal fire resources are on scene and responding. All three are estimated to be around .10 acre each.