Thunder Fire Sunday:
Final Update/1115am: The Thunder Fire is 100% contained. The road barricades are lifted, and the Thunder trails are open for recreation. A moderate amount of rain last night greatly benefited fire suppression efforts. Mop up continues with the aid of Norwood Fire Protection District. Please continue to avoid the fire location as responders are still working in the area (which is private property).
###
8:45am Crews continue mop-up. Norwood Fire Protection District has their wild land team on scene to assist other resources. Rain is forecasted for today which will help fire suppression efforts.
—
Thunder Fire Saturday 7/29/23:
730pm: No new fire growth. Crews continue to mop up will continue tomorrow.
###
10am: Fire is 50% contained as of this morning. "Contained" refers to firefighters having a line around the fire. There's minimal heat within the fire, and minimal smoke is showing. Air resources have been stood down. Crews continue mop-up with bladder bags. "Mop-up" is a detailed operation to continue to manage interior hotspots.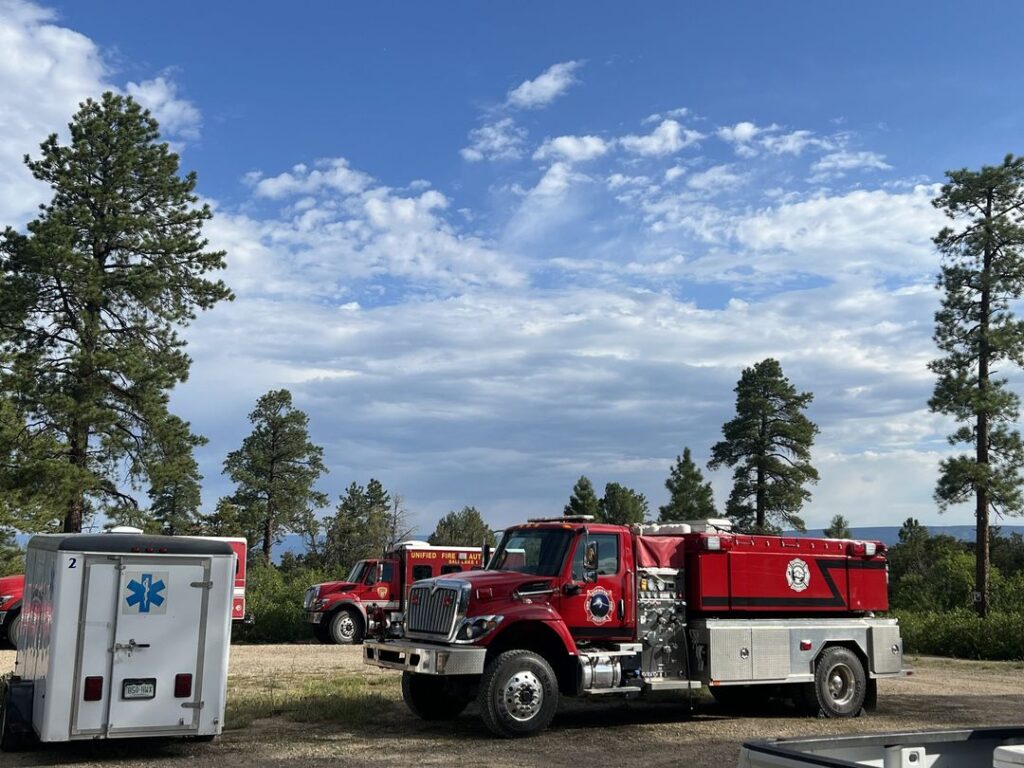 ---
Forest Service News Release
New Fire Start—Thunder Fire
Norwood, Colorado, July 28, 2023
Name: Thunder Fire 
Location: Approximately 1 mile north of Thunder road trailhead, Norwood, Colorado.
Size: Approximately 5 acres
Cause: Lightning
Jurisdiction: USFS/Private
Containment: 10%
Threatened Structures: 0
At approximately 4 p.m. Thursday, July 27, the Thunder Fire was reported near the Thunder road trail in San Miguel County.
The fire is approximately 5 acres in size and has moderate spread potential with little to no growth last night. It is creeping and smoldering in Pinyon pine, Ponderosa, Juniper and Oak brush in steep rugged terrain. A Type 2 helicopter from the Colorado Division of Fire Prevention and Control in Montrose is assisting, in addition to ground personnel from the U.S. Forest Service, Bureau of Land Management, Division of Fire Prevention and Control, Norwood Fire Department and the San Miguel County Sheriff's Office. 
Smoke may be visible in the area for the next several days. In the interest of public safety, fire officials ask visitors to be aware of fire traffic and avoid the area. Firefighter and public safety are the priorities for this incident.
Fire managers would like to remind visitors to continue to be attentive of their actions and surroundings, especially in areas with dry vegetation or dead/down trees. Practice smart wildfire prevention behavior including never leaving a campfire unattended, using established campfire rings, picking safe and proper campfire sites, and ensuring that their fires are completely out and cool to the touch by using the drown, stir and feel methods.
Fire Information Links:
Grand Mesa, Uncompahgre and Gunnison National Forests Fire Information: (970) 874-6602
GMUG Fire Info Facebook: https://www.facebook.com/GMUGFireInfo 
Grand Mesa, Uncompahgre and Gunnison National Forests website: www.fs.usda.gov/gmug
West Slope Fire Information: www.WestSlopeFireInfo.com
Twitter: https://twitter.com/GMUG_NF
—
Thunder Fire Friday 7/28/23:
10am The fire is estimated to be 5 acres within its original footprint and has laid down completely as of last night. Crews worked through the night until 3am and resumed this morning around 830am. Helicopter water drops are expected to resume this morning. The Sheriff's Office will be deploying an infrared drone to check for spot fires and hotspots. Expected forecasted temperatures in the 90s with low humidity and 7-12mph have crews watching for erratic fire behavior. There is a trigger point in place in the event of the need for federal assistance. Pre-evacuation status remains in place, and there are no threats to any structures at this time. The fire is 95% on private property, and the cause of the fire is a lightning strike. Thunder Rd remains closed, please avoid the area. Agencies on scene include San Miguel Sheriff's Office, Norwood Fire and EMS, USFS, and BLM. We will continue to update this page as information becomes available and/or fire status changes. KOTO fm will have a full report on their 6pm news broadcast.
—
"THUNDER FIRE"
Wildfire in Naturita Canyon SW of Norwood:
930pm Last update for Thursday night: The fire is 10 acres in size, 0% contained. Crews will monitor for spot fires overnight with air operations and ground assault resuming in the morning. Pre-evacuation status remains, however the winds have shifted the fire N-NW away from any structures.
7:10pm Additional ground crew in route from Grand Junction.
6:45pm The fire is currently estimated to be 8-10 acres. It 0% contained.
6:15pm Pre-evacuations are underway for residences along Thunder Rd, including La Mesa Vista, and Catspaw. This means you may be required to evacuate in the near future. Everyone in the pre-evacuation area should be prepared to leave at a moment's notice; if you feel you are in danger and want to leave, do so. If you need additional time to evacuate, you should consider leaving now. If you need to arrange for transportation assistance, you should do so immediately. If you have livestock or other large animals, you should consider removing them from the hazard area now. Again, this pre-evacuation is only for residents in the areas listed above. There is no threat to structures at this time.
5:35pm Helicopter will be taking water out of Miramonte, fyi for people who may be recreating in the area.
5:15pm PLEASE STAY OUT OF THE THUNDER RD AREA. Crowds are gathering and we need people to stay clear of the area. The road is being closed.
4:45pm Deputies, Norwood Fire, BLM, USFS, and air assets are on scene of a small, active wildfire started by a lightning strike in the Naturita Canyon in the Mexican Draw area West of Thunder Road Trails. Smoke is visible from Norwood from the fire, estimated to be approximately 1/4 acre in size. There are no threats to any structures at this time. Please stay away from Thunder Road Trails. Further updates will be provided as available.