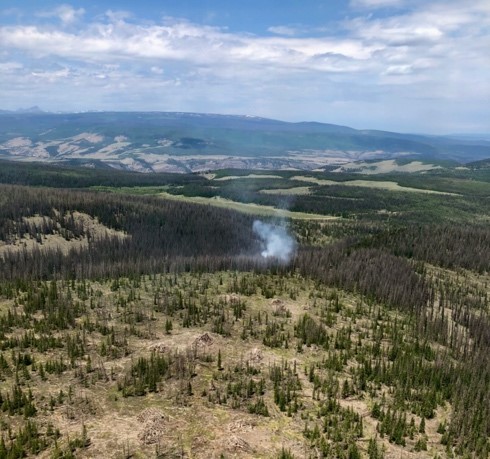 Name: Groundhog Park Fire
Location: 20 miles east of Lake City, CO
Size: Approximately 1 acre
Cause: Lightning
Jurisdiction: USFS
Containment: 0%
Threatened Structures: 0
Around 9:00 a.m. on Wednesday, June 23, the Groundhog Park fire was reported approximately 20 miles east of Lake City, CO in the Los Pinos drainage on the Grand Mesa, Uncompahgre and Gunnison (GMUG) National Forests, Saguache County.
The fire is approximately 1 acre with moderate to high spread potential, burning in dead and down spruce beetle-kill timber on steep terrain. Approximately 10 firefighters are working to suppress the fire and are assisted by one Type II helicopter. It is zero percent contained as of 2:00 p.m. No additional resources have been ordered. Currently, there are no structures threatened. The Cebolla trail and Forest Road 790 remain open; however, visitors are asked to be aware of fire traffic and avoid the area.
Firefighter and public safety are the priorities on this incident.
Fire Information Links:
Grand Mesa, Uncompahgre and Gunnison National Forests Fire Information: (970) 874-6602
Grand Mesa, Uncompahgre and Gunnison National Forests website: www.fs.usda.gov/gmug
West Slope Fire Information: www.WestSlopeFireInfo.com
GMUG Fire Info Facebook: https://www.facebook.com/GMUGFireInfo
Twitter: https://twitter.com/GMUG_NF